Find your
Next Adventure !
Best Time to Visit
How to Reach Fukuoka
Resorts & City Guide
Pros & Cons
‌March - May
‌

In spring, the temperature becomes milder and seasonal flowers such as cherry blossoms and plum blossoms begin to bloom, heralding the arrival of the season.The cold will settle down, but the warmer days will come around the end of March. Until then, the cold will still remain, so you will need warm clothing such as a coat or sweater.

‌

Weather: Max 22.9° C | Min 11.7° C
‌June - Mid-September
‌

There are many sunny and hot days, and it becomes a very hot day. In the middle of the month, it became a trough of pressure between the high pressure from the Sea of Okhotsk to the east of Kamchatka and the Pacific high over the South Sea of Japan, and was easily affected by low pressure and fronts. It can also rain heavily.

‌

Weather: Max 31 ° C | Min 25° C
‌September - November
‌

The temperature is easier to spend in Fukuoka Prefecture in autumn which is the best season for travel. And since it is often covered by high pressure, you can enjoy sightseeing to your heart's content in the cheerful atmosphere during the day.

‌

Weather: Max 19.5° C | Min 17.6° C
‌December - February
‌

Fukuoka Prefecture seem to be already coming to the footsteps of spring, but spring is still a long way off. As in January, the morning and evening temperatures are severe, so you need to take good care of your physical condition as well as your clothes.

‌

Weather: Max 8.6° C | Min 4.2° C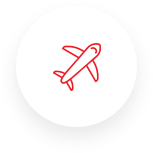 By Air
It takes about 1 hour and 40 minutes to fly from Fukuoka Airport to Haneda Airport. The first flight departs at 7:00 and the last bus departs21:00, making it easy to use for both business and travellers. It takes about 1 hour and 15 minutes from Osaka Itami Airport to Fukuoka Airport by plane, Fukuoka Airport and Hakata Station are very close by subway.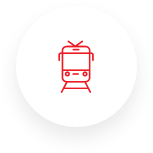 By Train
It takes about 5 hours to ride the Nozomi train from Hakata Station to Tokyo Station, which has few stops along the way. Mizuho leaves Shin-Osaka Station, it only stops at four stations on the way: Shin-Kobe, Okayama, Hiroshima, and Ogura. It takes about 4 minutes from Shin-Osaka Station to Shin-Kobe, and about 12 minutes from Kokura Station to Hakata Station, so it actually takes about 15 hours from Shin-Kobe to Ogura.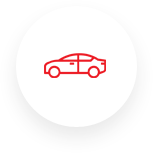 By Car
From Osaka, first take the Hanshin Expressway No. 11 Ikeda Line by car. After that, from the Sanyo Expressway, cross the Kanmon Bridge via the Chugoku Expressway and enter Kyushu and head towards Fukuoka. Enter Kyushu and continue from the Kyushu Expressway to the Fukuoka City Expressway to Fukuoka City Center. If there is no break, it will take about 8 hours.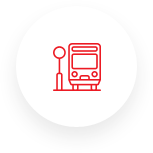 By Bus
Highway buses from Osaka to Fukuoka have a minimum price of around 5000,7000yen, and considering not only the price but also the time efficiency of traveling at night, they are popular as a more reasonable means of transportation than airplanes and bullet trains.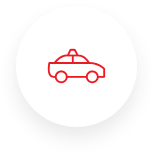 By Private Transfer
Traveling by private car from Osaka to Fukuoka is convenient for large groups of family and friends, or when carrying large luggage. One of the advantages is that you can move by yourself, so you can move while taking breaks freely.
Pros
Lots of delicious food
Close to the sea and mountains, convenient train bus
Close to major urban areas and airports
Since the city is compact, you can experience various things about the city, nature, history, culture, and sports in about an hour starting from Hakata
The fish from the Ariake Sea is delicious
Cons
Fukuoka is a busy city and can get crowded during peak hours, which can make it difficult to get around.
English is not widely spoken in Fukuoka
Less options for accommodations in Fukuoka
Review and Rating
All Japan Powder Ski Holiday' clients are given the opportunity to review their trip once they return home. These reviews are administered by a third party and as such are unfiltered by Japan Powder.